This week's guest blogger for Wednesday's Woman is nothing less than astonishing. I mean that in the true sense of the word.
a-ston-ish: to amaze somebody to a great degree
Yes, she amazes me.
If you want to know why, check out her space in the blogosphere,
Confessions of a Semi-Domesticated Mama.
Start with the
page
devoted to introducing readers to her
family
—a husband of almost 16 years, two adopted children, and three children by birth. You'll find links to stories about each member of her family and you'll want to read all of them.
Once you know
Delilah the Semi-Domesticated Mama's family
, read . . . everything. I'm not kidding. You will relate to accounts associated with her struggles and triumphs amid parenting, family life, and school issues. You will be stirred by stories of personal growth which are filled with humor, courage, and wisdom. You will cry after reading one story and laugh after the next. The scope of her writing is limitless, as is life itself. I guarantee you will connect with her on many levels.
Delilah
is not afraid to engage in self-examination. You will find this to be true after reading her submission to
Wednesday's Woman
which tells of her struggle with postpartum depression (PPD). She's brave. She's an inspiration. I am grateful to have her today at
Sperk*
.
Wednesday's Woman: Katherine Stone
I often hear people use the saying "you're a lifesaver" and while it's obviously quite a compliment, generally the person is not an actual lifesaver. The woman I want to highlight today actually saved my life even though she has no idea who I am or how she helped me.
Her name is Katherine Stone. She is the founder of
Postpartum Progress
, a non-profit website dedicated to raising awareness and the standards of care for Postpartum Mood Disorders. After
suffering through her own Postpartum Mood Disorder
, she also founded a peer support site to help both educate and support woman going through their own battle.
The Non-Profit's Mission
Postpartum Progress Inc. is dedicated to improving the health and well-being of women and children by increasing access to and quality of support for women with postpartum depression and other mental illnesses related to pregnancy and childbirth.
I first came across Postpartum Progress back when my now 7 year old daughter was just a toddler. I was just coming through the last few months of dealing with a mild case of Postpartum Depression (PPD) and found the site while doing a Google Search. I glanced through the website quickly and bookmarked it for later, never realizing just how badly I would need the resource in a few short years.
Postpartum Progress Blog
Postpartum Progress is the most widely-read blog on postpartum depression and all other mental illnesses related to pregnancy and childbirth. You won't find more comprehensive information on PPD, postpartum anxiety, postpartum OCD, depression during pregnancy, post-adoption depression, postpartum PTSD, depression after miscarriage, or postpartum psychosis anywhere else.
After the birth of my last child I was hit very hard by Postpartum Depression and Anxiety. I was nearly incapacitated by the overwhelming sadness and anxiety. I found myself browsing on Katherine's blog daily, reading the stories of the Warrior Moms and envying that they were on the other side of the struggle I was still enduring. One of the best aspects of Postpartum Progress is the Plain Mama English wording in the articles. The last thing I needed was to try and decipher the technical and confusing medical terms for what I was dealing with and feeling. I needed the Plain Mama English and that is what Postpartum Progress provided for me.
I spent hours reading the hundreds of articles available about everything from Advice for Dads to the comprehensive FAQ page. I started slipping further and further down the rabbit hole and I was withdrawing from my family and my friends. I stopped talking, I stopped answering my phone, I stopped living the life I was accustomed to living. I did not recognize myself but I also didn't know how to stop the downward spiral.
I did not realize at the time that my Postpartum Depression has slipped into Postpartum Psychosis. I had no frame of reference for what psychosis would look like. All I had ever studied in my Psych classes about psychosis involved things like hypomania and psychomotor agitation. Those terms seemed so far away from the reality that I was living. I hit rock bottom when I could no longer avoid the voices that were echoing in my head constantly. I made one attempt to end my suffering and failed. I was planning my second attempt when I happened across The Symptoms of Postpartum Psychosis on Katherine's site. It was written in Plain Mama English and just like a lightbulb being flipped on there was an instantaneous recognition of my own symptoms.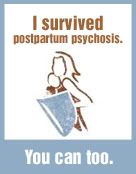 I reached out immediately for help, scared to death of the magnitude of what I was facing but knowing that the alternative would certainly be worse. It was a long, very difficult, journey back from rock bottom. I am so glad that I was able to refer my family and friends to Postpartum Progress so they could read about ways to help me. I was not able to give them suggestions because every ounce of myself was concentrated on just surviving. I know without a doubt that had I not read about the symptoms of postpartum psychosis written in such plain terms I would not have reached out for help. I would have tried to end my life again and I would have succeeded the second time around. I owe Katherine Stone my life.



A conversation on how recovering from postpartum depression & anxiety is similar to recovering from major trauma. Katherine Stone, Postpartum Progress, Recorded on April 25, 2012



photo credit: Armando Maynez via photo pin cc