After the
2010 Ohio Gubernatorial Election
results were in, I was physically ill.
Shocked.
Even though the polls indicated a close race between Democratic incumbent Governor
Ted Strickland
and his opponent
John Kasich
, I thought the possibility of the people of Ohio allowing a former managing director of
Lehman Brothers
to reside in the Governor's mansion was akin to me gaining the super-power-ability to afford my property taxes without selling the silver.
Impossible.
As I tried to fathom how this could happen, I remembered the young man wearing ripped jeans and a Pearl Jam t-shirt who came to my door earlier that summer. He asked for my support for
Governor Strickland
, which he received. However, to the question, "Could you afford a little time to help the campaign?" I answered, "No."
When Kasich won the election--when I was ill, shocked and selling my silver--I vowed to say "Yes," to the next person who asked me to help in campaigning for a candidate I support.
Today in Columbus,
President Barack Obama
officially launched his campaign for reelection at The Ohio State University. He opened the
Ready to Go Rally
by saying:
"Hello, Ohio! It is good to be back in Ohio. . . We're going to win this thing the old fashioned way, door by door, block by block, neighborhood by neighborhood."
You are in my blogosphere neighborhood. I'm on your block and knocking at your door.
My goal is to raise $200. By making a donation, you ensure America moves "Forward." Click the badge below or in the sidebar to donate: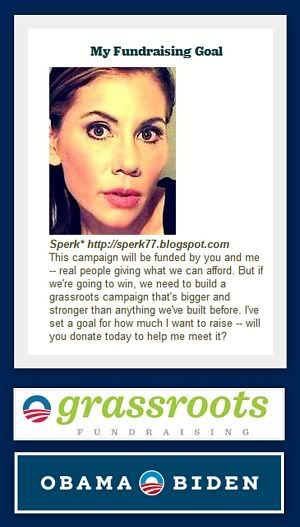 Why?

Unlike during the 2010 Ohio Gubernatorial campaign, to the 2012 Presidential campaign, I say, "Yes."
He answered better than I could today when he said:
"If people ask you what this campaign is about, you tell them it's still about hope. It's still about change. It's about ordinary people who believe that in the face of the greatest odds, we can make a difference in this country."