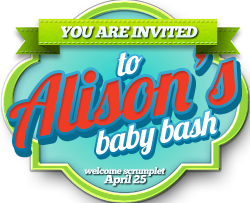 You ask, "What's a Srumplet?"
It's a baby of course!
Bloggers are uniting to celebrate the soon-to-be arrival of Alison's son, Scrumplet.
You ask, "Why?"
You've heard of baby showers, right? Well,
Alison
, at
Mama Wants This
, is a fabulous blogger with thoughtful blogging friends--
Stasha
,
Ado
, and
Erica
. Where else would bloggers have a baby shower but in a blogging link-up?
In lieu of real-life gifts, Stasha has requested we "pin something down" on Pinterest; Ado has asked for a favorite baby photo and quote about motherhood; and Erica is providing us with that good ol' baby shower game of guessing Scrumplet's due date, birth weight, and length.
Pinning Down the BabyBjorn:
Antonia at 3 months old in her BabyBjorn (that's me of course)

I don't know how I could have taken care of a new born and toddler without my BabyBjorn! I had Antonia in that thing all the time. Not just when going out, but also when doing things around the house like laundry, dishes, playing with her toddler-big-sister, and walking on the treadmill (I think that is viewed as unsafe, but I'm no expert).

Favorite Photo and Quote:
August 15, 2000
Antonia in the arms of her big sister, Sophia
"Sometimes when you pick up your child you can feel the map of your own bones beneath your hands, or smell the scent of your skin in the nape of his neck. This is the most extraordinary thing about motherhood - finding a piece of yourself separate and apart that all the same you could not live without."
― Jodi Picoult, Perfect Match
What will Scrumplet's birth date, length and weight be?
Weight: 7 lbs. 11 oz.
Blessings to you and yours,