She went to the window hoping the bright sun would bring her clarity. Stepping closer, her breath began to create a foggy circle of moisture on the glass. Increasing in size, the breath smudge obstructed her view of the tiny bird that hopped in the front yard. She took a step back and wiped the spot with the sleeve of her sweater.
Examining the quick movement of the tiny bird reminded her of a time when her thoughts were full of hope and excitement. Her mind was in such contrast to the awareness it possessed years ago.
The sun was warming her face but failing to fire her deliberation. She longed to be given indication that her thoughts were safe to explore.
She remembered past attempts to access responsiveness.
Two years spent in talk therapy, six months in rehab, and four weeks devoted to working with an expert in E.M.D.R. gave her nothing but a penchant for navel-gazing. An impulsive trip to Las Vegas, the spirituality retreat, a juicing diet, and the purchase of three purebred Chihuahuas propelled her into a financial mess and emotional bankruptcy.
Her stomach began to cramp with hunger. She abandoned the warm sun of the window for the chill of the refrigerator. Her eyes quickly scanned its lack of contents landing upon a half empty bag of apples that had occupied the bottom shelf for two months. For a second she contemplated going out for something fresh to eat. Indolence quickly provoked her to grab the questionable fruit.
She made her way to the couch. She reclined with her head on a throw pillow which was propped up by her right arm bent beneath. Her left hand held her sustenance. She ate.

The first bite alerted her body to the fact that it was finally being fed after many days of forced fasting. Everything felt as if it jumped into high gear. She devoured the apple with such fervor that she didn't even taste it. The sound of the meat of the fruit being mashed by her jaw was her primary focus until almost choking upon a seed.

Startled, she sat up, spit the seed out into the palm of her hand, and placed the kernel back into its crevice.
She went to the window hoping the bright sun would confirm her sudden clarity. The little bird, still busy hopping on the lawn, took three jumps and launched to the sky. Her feathered friend flew away taking indolence with it.

Stepping closer to the glass, she watched her breath form a foggy circle of moisture as she whispered, "Well thank you, little bird. My core is OK."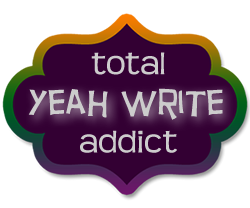 Originally created in response to prompt below. Edited, rewritten, sweated upon for Yeah Write, because I'm an addict. I admit it. And I'm powerless.
This weeks's prompt:
For this week, I'm giving you the word "Core."
You have 450 words to explore any meaning of the word
in a work of creative non-fiction/memoir or fiction.
photo credit:
keepps
via
photo pin
cc