The Great Blogging Anniversary is happening right now. In fact, it's been happening all week. Five bloggers have joined forces to make the celebration grand and it includes a link up. I am terribly grateful to finally overcome distractions and join the event. I encourage you to do the same.
Don't let the fact that the clock is ticking near to the end of the festivities keep you from answering one of their seven prompts. I guarantee you'll find them to be of value, helping you gain insight to what you are doing in the blogosphere (you can find my insight below). After you post, you can expand your views by reading other participant's submissions. And the bonus is, you'll get read, too. Double bonus: I think I read something about prizes!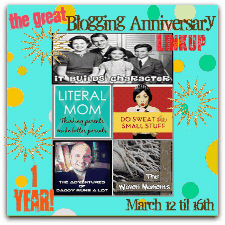 What I thought I'd Be Writing About When I Started Sperk*
When I started
Sperk*
I was familiar with expressing myself through writing. I maintained a journal since I was an adolescent. It kept me from writing on the walls and furniture with my mom's lipstick.
Two years ago I returned to school to finish my degree and my personal writing fell by the wayside. Although I missed my time for my journal, I became more skilled as a writer, adjusting my style to suit the needs of academics. My writing became less stream of conscious and more purposeful.
Last October, I saw the end of daily academic writing drawing near with my final course to be completed in November. I knew I would miss it. As autumn was in the fore, I became concerned about falling into my typical mode of
seasonal depression
. So, I started
Sperk*
.
I thought
Sperk*
may be a creative space—a place to explore the imaginary in order to connect with the fuzzy stuff in my brain. On the other hand, I thought I may use it as a space for commentary on current issues in education. And of course I thought, "Maybe
parenting
?"
After a few weeks, I realized I was mostly writing about trends in
educational technology
and
parenting
. So I decided I had a niche:
A parent's view of adolescent development and education.
But it didn't last long.
When reading the blogs of others, creating my blogging community, I was profoundly moved by some of the stories I read--stories that were not easily left on their pages. They were with me the day I discovered a writing prompt dealing with the telling of family stories. The provocation began to preoccupy me. There was a nagging bug in my brain. I felt that if I did not exorcise my thoughts, I may not be able to continue Sperk*. And I was shocked that this blogging business had become so important to me so swiftly.
I responded to the prompt
but sat many minutes staring at my computer screen before clicking "publish". I had M read it. He said, "Are you sure you want to post it? Is it safe?"
I said, "I am not sure. But I have to."
Moving into the world of risky
self-disclosure
helped me to understand why I blog. It is like medicine to me. And the pills are distributed not only through my act of catharsis, but also through the comments left by members of my blogging community. I find words of encouragement, empathy, and brave admissions of sharing similar experiences. I make meaningful connections.
"Exposure to children is exposure to one's own unresolved past"

~Michael Thompson
Sperk*
is now a
fearless examination of life with two adolescent daughters
. As I parent my girls, it is important for me to address my own issues so that I am authentic and effective. It's not always easy. I still battle with fear and self-doubt every time I click "publish". But it's worth it. It brings empowerment.
I am finding my voice by sharing my personal stories, accounts of parenting experiences, and
Wednesday's Woman
--my series that spotlights female role models. It is possible one may stumble upon Sperk* and assume it to be a feminist space. And maybe it is. After all, blogging is number 26 on the
Feminist Activities Guide: 100 Activities You can Do Now
. But, I avoid using the label because the stereotypical image clouds the message.
My content is not affected by my concern of how a reader may label or categorize my blog. I understand that my need for voice and connections within an authentic community trump popularity. But I won't balk at popularity if it comes. Why wouldn't I want to be
Seth Godin?
Especially if I adhere to his philosophy:
"I'm not writing to maximize my SEO or conversion or even my readership. I'm writing to do justice to the things I notice, to the ideas in my head and to the people who choose to read my work."
~Seth Godin
Happy Blogging Anniversary!


photo credit:
Mexicanwave
via
photopin
cc
photo credit:
Foxtongue
via
photopin
cc