I typically dive head first into depression beginning in October of each year. Well, maybe not dive. It creeps up on me, like an itsy-bitsy spider. As I admire the beauty of the changing colors of the leaves and bemoan their eminent demise, I firmly plant my feet on the concrete and watch that creepy arachnid scurry to face me. Even though I know I am bigger and can merely step on it and end its life, the sight of its icky appendages paralyzes me. It crawls up my pant leg, making its way to my left nostril, navigates its way through my nose hairs, finds an empty space in my brain, and camps out until it is washed out during the first spring rain.
The spider was not spinning its web too fast this year. I finished school in
November
, was semi-wise with finances during the holidays, and managed to gain only about five pounds. Pretty good.
Wait. That's not right. The
Penn State scandal
hit in November and then
Mercury went into retrograde
. Pretty bad. So maybe this year's spider was growing at an exponential rate. I don't know.
I do know that I was able to start
Sperk*
at the same time the itsy-bitsy spider came crawling. I do know that the experience of disclosing
information about my childhood
within the walls of
Sperk*
has proved to rid me of fear, writer's block, and other ailments that can prevent one from blogging. I also know that the connections I have made thus far within the blogosphere are meaningful to me.
Which brings me to last Friday, the day I received a comment on
Exit Stage Left: No More Intolerance
from
Literal Mom
. The comment was a welcomed one, of course. I hold
Missy at Literal Mom
in very high esteem. Her words prompted a flood of thought and I was excited. I was thinking about what I would write and how I would write it while happily vacuuming the house. I was looking forward to writing the post after I returned home from dropping off the girls at their dad's for the weekend. I got home and. . .

WHAM. Thug. Clunk. Ouch.
Spider violently spinning.
To the couch. She's out.
I was on the sofa the entire weekend.
After two and a half days of very bad television, I rose. With the girls' return imminent, I showered, cleaned house, and made a quick trip to the grocery store. Movement felt good. Yes, indeed. Also,
I felt good.
It was strange. Was it the
Tony Robbins interview on Oprah's network?
Was it knowing that compared to the moms on
Big Rich Texas,
my skills as a mom are stellar?
Maybe I was just done with the self-loathing pity party that was taking place inside my brain. You know the one hosted by the itsy-bitsy spider? And I knew
Yeah Write
was coming up. And I read
Sweaty's post at Just Be Enough
that gave me just enough kick. I had to write. Get back to life. Get more out and take more in from not only my blogging community, but also the big fat world.
The spider has been exterminated.
The trouble with waking from depression is the onset of panic that ensues when you feel the weight of all the stuff you've put off. Calm down. Make a list. Or just do some pinning on
Pinterest
and create a killer playlist on Spotify. One thing, one day at a time.
First on the list for today is to address the comment left for me last Friday by Missy,
Literal Mom.
The comment that I spoke of above. The one that moved my mind. It was formed in two questions and here I answer her inquiries complete with explanations, a result of some healthy contemplation (I ask you to keep in mind that the contemplation never ends, so my answers may change over time):
Question 1 - does your mom read this? I ask because I can't talk about mother issues on my blog - as they read every. single. word.
I think my mom reads this. I am not certain. My goal is not to hurt her. My goal is to express my truth so that I can live. I know no other way. Ever since my memories of abuse surfaced, I have, in one way or another, been trying to get my family to pay attention to and acknowledge what has transpired in our family. On occasion, I thought my mother, sister and I could support each other in healing. I now know that I need to find support elsewhere, and continue on my journey to health. I have been through a lot and put myself through a lot along the way, and honestly, am grateful to be alive. I truly believe that every person's birth is enough reason to live—if you were born, you matter. Therefore, I surmise, I matter. And I'm doing something about it—I'm writing.
Question 2 - did writing this make you feel better? I hope so, and just want to tell you wrote it beautifully.
Writing the
post
did make me feel better. Then I was feeling vulnerable and afraid of how it would be received. I can tell by the wonderfully supportive comments that my fear was in vain. I was also fearful of what my mom would think or do. I had horrific thoughts of comments posted, text messages sent, and incriminating photos uploaded. I have not heard from her and have let go of worrying about her reaction. I hope that even if she does not understand why I write, she understands that our story, my story, the story of our family is, unfortunately,
not
unique. When I bring our story to light, I am saving the lives of others--figuratively and in some cases literally. In my case it's literal.
Thanks,
Literal Mom
, for the compliments, for reading, and for your questions. Thank you,
Yeah Write community
, for your continued support. I am full of gratitude.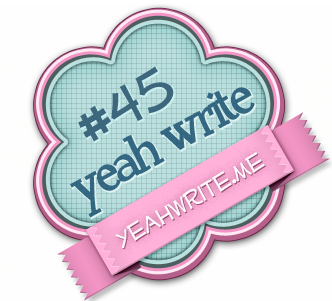 For now, I bid you adieu, and wish you the best Fat Tuesday ever. And remember, if you see an itsy-bitsy spider, step on it. Wait. I am being over-sensitive and insensitive. You may want to consider carefully getting the damn thing back to it's habitat. Whatever you do, keep it far, far from me.
photo credit:
Jason A. Samfield
via
photopin
cc