Response to the
2012 Family Plan for Giving link up at Sperk*
:
My family took a road trip to see friends for the New Year holiday. It was great to welcome 2012 with special people that we do not often have the opportunity to see. And the car ride provided an opportunity to discuss our
2012 Plan for Giving
.
My daughters have different ideas of how they would like to engage in volunteerism. Antonia would like to volunteer at an animal shelter because she loves dogs. Sophia would like to volunteer at a senior living center. My significant other is interested in helping both animals and seniors, so we will make the volunteer opportunities occasions of family time.
We seasonally clean out closets and drawers and donate gently used items to charity. This is done by loading the van with several plump-filled garbage bags and dropping them off at the giant free standing bin next to the grocery store. Honestly, I have no idea who gets the clothes we donate.
My girls understand that although it is difficult to part with a pair of favorite jeans, those pants can become a favorite to a child in need. But, as the old adage indicates, "Seeing is believing." This year, instead of leaving the bags at a drop-off bin, we will take items directly to organizations that are in need. I want my daughters to SEE that their clothes actually go somewhere and are worn by actual people.
Every group that we want to help may not need what we have to give. We have some research to do. The internet makes it easy. Most charitable organizations, homeless shelters, and community service centers have informative
websites
that allow me to discern if they are a good fit for my family. I have confidence that we will find the right places to give our time, talent, and unused belongings.
I have been using the
GenerationOn
website as a resource for finding the charities that fit with what our family can provide. There are also tips for organizing a complete
community project
if you are interested in a larger endeavor. I particularly like the list of
project ideas
, big and small, that refresh and revitalize the ways in which a family can engage in giving to the community.
"Family projects that involve giving to those in need during the holidays can be turned into powerful lessons that teach compassion, empathy, and meaning to children."
2012 Family Plan for Giving Link Up Update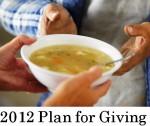 Create and
share
your
family's 2012 Plan for Giving at the link up here:
Sperk*
Or leave your ideas in the comments!
Why should you participate?
Our children are coming down from a holiday high brought on by receiving great gifts. But remember, it is in the act of
giving
that children and teens gain the most satisfaction (Dr. Price-Mitchell, 2011). By creating and linking up your family's
2012 Plan for Giving
you are making a significant impact your child's development of compassion and empathy.
Because the New Year was celebrated with such exuberance and many of my fellow bloggers have been on hiatus, I extended the deadline for linking up your family's 2012 Plan for Giving to Thursday, January 5th. Voting for the "Choice Plan for Giving" will start on Friday the 6th with the winner being determined on Saturday the 7th. The winner receives a $20 donation in their name to the charity of his or her choice.
Remember your plan does not need to be complex.
Your family may already be involved in volunteering and giving to your community. Great! Tell us about it. This is about sharing ideas, lending support, and cheering each other on. It is possible that we can make this a global movement!

Reference
Price-Mitchell, M., Ph.D. (November 21, 2011). The gift of giving: How holidays shape children's
identities. Roots of Action. Retrieved from
http://rootsofaction.com/blog/the-gift-of-giving-how-the-holidays-shape-
childrens-identities/




This post is linked up with lovelinks #38!